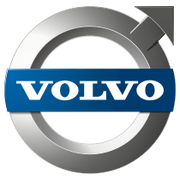 The
Personvagnar AB Volvo
or in English as
Volvo Car Corporation
is a Swedish automobile manufacturer.
Volvo Personvagnar
originally represented is a core business of the
Volvo Group
, was sold by it to
Ford
in 1999.
The car manufacturers and its former parent company, working since then, apart from various sponsoring activities and the sharing of the brand, which is managed by Volvo Trademark Holding (see main article Volvo), completely separated from each other but have their respective headquarters remain at the same site in Gothenburg.
On 28 March 2010 gave the U.S. automobile company Ford, as announced in December 2009, announced the sale of Volvo Cars to Chinese car company Geely International Corporation.
On 15 July 2010, Li Shufu, owner and chairman of Geely, Volvo appointed Chairman of the Board of Directors. President and CEO of Volvo Car Corporation since October 2012 Håkan Samuelsson.