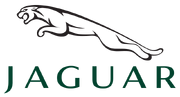 Jaguar
(English pronunciation: [dʒægju ː ə] in the
UK
, [ˌ dʒæg wɑɹ] in the
United States
) is a British car brand.
There is a development center in Whitley in the south of Coventry and plants in Castle Bromwich in Birmingham and Halewood in Liverpool (all in the UK). From the end of 1989, the company was part of the Premier Automotive Group of Ford, which sold it in March 2008, together with Land Rover to Tata Motors.
On 28 December 2012 the business of the Land Rover private unlimited company was transferred to Jaguar Cars Limited and changed its name as part of its Jaguar Land Rover Limited. The Land Rover private unlimited company persists, the brand name will continue separately.