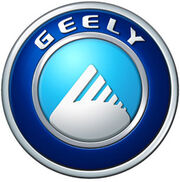 Geely
(吉利 汽车 chinese (traditionally) / 吉利 汽车 (simplified) Jí Li Qi Che, auspicious Automobiles') is a Chinese automobile and motorcycle manufacturers. The headquarters of
Geely Holding
is located in
Hangzhou
, capital of
Zhejiang
province. Geely has seven locations to complete production of cars. These include the cities of
Linhai
,
Luqiao
and
Ningbo
in
Zhejiang
province and
Shanghai
,
Xiangtan
,
Hunan
,
Shandong Jinan
,
Lanzhou
in
Gansu
. Another location for the production of parts is located in
Chengdu
in
Sichuan
.
The competent authority for the export and import "Geely International Corporation" was founded in 2002 and is headquartered in Shanghai.
The company operates Geely (Licensed Products CKD / SKD) and the brand Emgrand (100 percent in-house developments), Englon (JV models), London Taxi (bought), Panda (small cars), Shanghai Maple Automobile Maple Automobile (bought) and Volvo (2010 bought).
Ad blocker interference detected!
Wikia is a free-to-use site that makes money from advertising. We have a modified experience for viewers using ad blockers

Wikia is not accessible if you've made further modifications. Remove the custom ad blocker rule(s) and the page will load as expected.